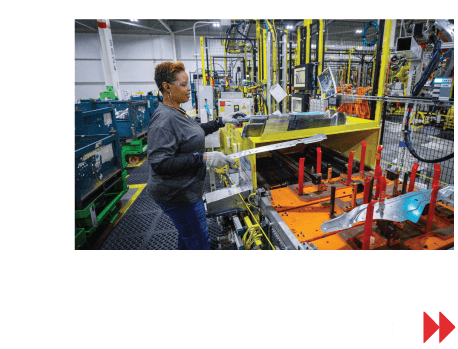 Lean Transformations for Middle Market Companies. Realize ROI in 30 Days or Less!
American Lean Consulting helps middle market companies implement impactful change so they can successfully compete on a global basis.
Master Your Understanding of Lean Principles and Methodologies through the American Lean Weekday Podcast:
5 Topics. 5 Days. 5 Minutes.

The Benefits of Consulting from American Lean

Four-step framework eliminates guesswork and ensures sustainability

Lean principles using simple American vernacular – no Japanese buzzwords

Fixed fees – no additional travel expenses

25+ years of broad industry experience The Lean Game Plan from American Lean is a four-step framework based on 30 years of experience in leading highly successful lean transformations:
1: Define Your Vision

Create strategic goals and the metrics to measure success

Develop a True North management system

Identify key value streams to improve by reducing waste

Establish a communication channel to share information with all employees
2: Train Employees

Train leadership on basic and advanced lean concepts

Train the workforce on basic lean concepts
3: Execute the Game Plan

Develop a game plan with dates for Rapid Improvement Events to make improvements to the key value streams

Improve the stability of key processes and establish process coordinators and coaches to improve those processes

Develop and utilize standard work for the key processes, including standard work for leaders

Conduct the Rapid Improvement Events
4: Make Halftime Adjustments

Measure the results of the Rapid Improvement Events and make changes as necessary

Establish meaningful process performance metrics
Learn how the Lean Game Plan framework can help bring a lean transformation to your organization.