Value Stream Mapping Events
Value Stream Mapping is an essential tool for lean transformations. It identifies where the waste lies, in both your enterprise (using an EVSM, or Enterprise Value Stream Event) and your processes, in terms of information flow and product manufacturing/ production. The end result is a visual representation of the areas of improvement that will positively impact your bottom line.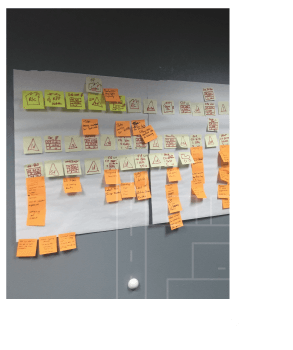 During this multiday process, your American Lean consultant will kick off the VSM event by working with your team to determine the key processes or product families – the value streams – you wish to map. Then he will guide your team through two phases of mapping:
Current State Value Stream Map –
What It Is Now
Review the existing process flow to capture information such as:
Anticipated time it takes for one operator to flow information or material through the selected value stream
The number of operators involved in each process within the flow
The percentage of time operators are not available to work
The distance operators need to travel between processes during the flow
Anticipated inventory at each process location
Assess and determine the sources of waste within each individual process and categorize them
Calculate the ratio of value-added time to non-value-added time within the selected value stream
Map the process flow using icons to represent the individual processes
Future State Value Stream Map –
What You Want It To Be
Review how the current state map represents your vision and company strategy
Assess and determine sources of waste within each process and how they affect the overall enterprise business system
Assess and define areas to improve
Define team member roles and responsibilities during the future state deployment
Identify and prioritize key improvement opportunities
Plan Rapid Improvement Events to implement changes
Want to learn more about how Value Stream Mapping can help transform your organization? Schedule a 30-minute consultation with Tom Reed.
Learn how the Lean Game Plan framework can help bring a lean transformation to your organization.