Develop Your Lean Game Plan
Following the simple, four-step Lean Game Plan framework, your American Lean consultant will walk your team through a multiday exercise designed specifically for your organization. This process will start you on your way to a successful lean transformation and help ensure your organization's success.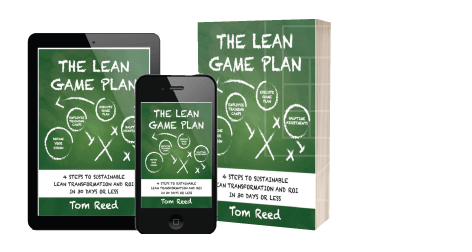 The individual steps needed and number of days involved may change based on the needs of your organization, but the game plan may look something like this:
Day 1
Define your vision. Create your strategic goals and identify 3-5 key business metrics you want to use to keep score on how you are progressing.
Day 2
Train your leadership team and/or workforce on Value Stream Mapping. Start creating an Enterprise Value Stream Map to identify where the waste lies within your processes.
Day 3
Continue work on your Value Stream Map
Day 4
Review the Value Stream Map. Prioritize the areas for change and plan Rapid Improvement Events to drive that change. Develop your Lean Game Plan deployment plan for the next two quarters.
Learn more about how the Lean Game Plan framework can help transform your organization. Schedule a 30-minute consultation with Tom Reed.
Learn how the Lean Game Plan framework can help bring a lean transformation to your organization.