One of the key elements on my American Lean Weekday podcast is the weekly interviews that I conduct with companies on their Lean Journey. These companies are from various industries and are all different sizes. I have interviewed leaders from family-owned businesses to multi-national organizations. These are keynotes from a conversation with Tim Bayer, President of Hansen Plastics in Elgin Illinois.
Hansen Plastics is an employee-owned (ESOP) and they maintain a can-do attitude because their employees are also owners.  Respect and trust for each other are key elements of their True North.  They have over 70 molding presses pressing custom parts across multiple industries.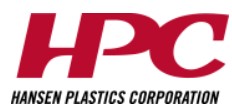 These are some key points taken from my interview with the President, Tin Bayer.
 We started our Lean journey in 2012.  I was excited to bring my family in and show them the shop and it did not look good.  The presses were a mess and it didn't reflect well on us.  "I realized I was making excuses for people.  It was a reflection on me."
"We wanted to design our culture and not have it by default.  It went the way of default and we let it happen.  We decided we needed to make a change."
 "we've been able to cut our customer complaints by 1/2 each year.  We've had sales per FTE increase every year.  Scrap has decreased by 32% year over year."
Our backlog has gone down from $615,000 to $2,000.
"Our employees are better leaders because of the growth, but they are also better parents and spouses as well!"
 "It's not just about the dollars, people feeling good, positive energy, everything that makes people want to come to work and do their best."
  "We would chase shiny objects when we began doing kaizens events in the plant so we began policy deployment about four years ago.  That helped keep us focused."
  "We wanted to maximize our greatest asset- our employee-owners.  A big surprise has been how hard they have gone after getting to the root cause and making change.
"There is no perfection so just go do it."
Follow me on Twitter
Join me on LinkedIn
Listen to the podcast here