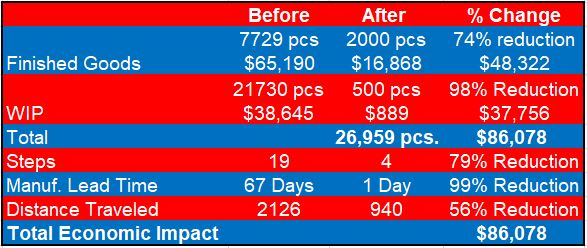 Since it's near the end of the year and your company might consider Lean training, I thought I'd give you an early present and cover topics to include in your Lean training.  This is not an exhaustive list- I'm breaking the topics up over several weeks.
If you cover these topics, I know you will have a very solid start in educating employees on Lean topics that will benefit your company immensely!  It's helpful to add workshops for many of these topics to keep people excited and engaged when we can all get into a training room again!
1.  Rapid Improvement Events (Kaizen)
Last week I mentioned the eight wastes and PICK charts.  Pick charts are impact/effort matrices and the letters stand for Plan, Implement, Challenge, and Kill.  As you develop countermeasures for the waste you identify on your Enterprise Value Stream Map (EVSM) run those ideas through a PICK chart to select the best ones to implement.
Focusing on the ideas in your Implement quadrant (low effort/high impact) it's time to schedule Rapid Improvement Events to eliminate the waste.  What's an RIE?  An RIE is the implementation method used by thousands of companies to make the change.
RIE's are focused efforts 2-5 days long focused on a specific area of the business.  The goal is to complete 90% of the work or change within the event.  Having led over 400 RIE's, I can tell you they can be company changing.
It's also important that the RIE's will make improvements to the overall business KPI's.  Don't hold RIE's just to have activity.  You are working to make the company better and impact the bottom line.  But, before you have an RIE you first need to develop a…
2.  Project Charter/A3
Every RIE should have a project charter, sometimes called an A3 developed for the event.  If you don't do this, you can suffer from scope creep and you won't get everything completed in your timeframe.
The project charter makes sure you think about what we can accomplish in a 2-5 day timeframe and not try to boil the ocean.
3.  Master Plan and LPO
Now that you have your RIE's identified, it's important to develop a three-month master plan of events.  This provides your company with an implementation roadmap.  If you can, give some thought about who to include in the RIE's so they can get the event on their calendar.
Establish an LPO or Lean Promotion Office where you can display the three-month schedule among other items like the A3's, and RIE report outs, value stream maps, etc.
4.  Rapid Improvement Event Report Outs
Finally, after each RIE, it is important to have the team members make a small presentation to leadership that tells the story of the event.  Make sure as the event is happening you take pictures since you will want to include them in the report out.
It's a chance for the team to share their hard work and for leadership to show their support.  These are four more great topics to include in your lean training!
As always, it is an honor to serve you, and I hope that you and your company are getting better every day!
Follow me on Twitter
Join me on LinkedIn
Listen to the podcast here