One of Henry Ford's sayings is that "Coming together is the beginning, keeping together is progress and working together is a success."  Grand words from a great Lean influencer.  The tendency might be to put off your Lean activities given the current environment.  I believe it's more important than ever to keep your Lean journey moving forward!
I still coach companies and lead Rapid Improvement Events in today's environment.  We all wear masks and stay six feet from each other as much as possible.  We can still use our most important attribute- our brains to solve problems and improve processes.  Here are some activities you can do to keep your lean journey moving forward.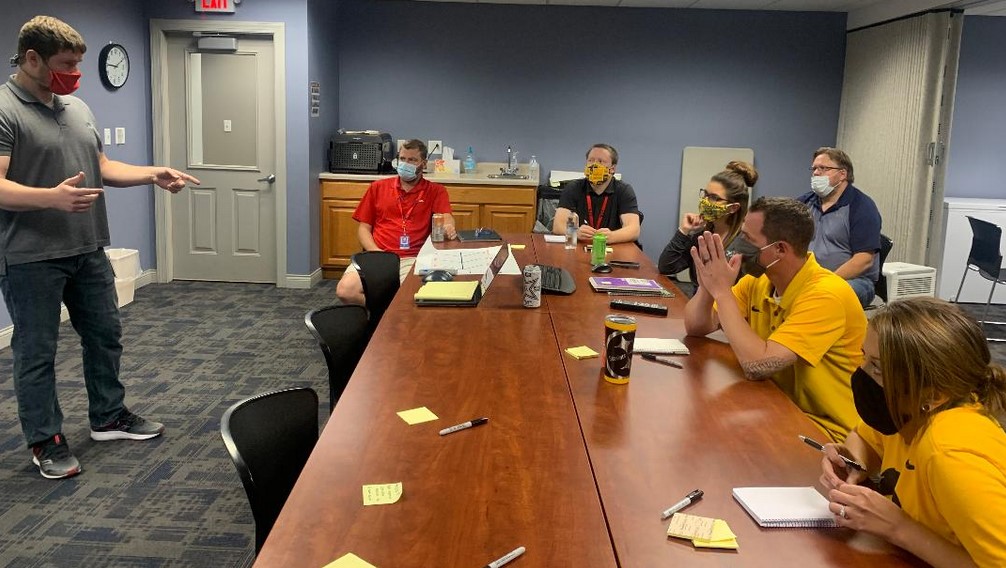 1.  Rationalize inventory & product offerings
Why start here?  Chances are your customer's buying patterns have changed since March 2020.  It's time to look at those buying patterns and understand if there are products they aren't buying anymore.
The flip side is also true.  Are there products they are buying more of?  Regardless, it's a great time to evaluate your inventory and product offerings.  My bet is you can conduct some inventory and product rationalization.
2.  Re-design your lines
If you have had a change in mix and volume, it is a great time to re-design the lines that make your product.  Are you taking advantage of the powerful tools of mixed-model lines?  These can support a daily change in mix and volume easier than fixed volume lines.
There are ways to calculate exactly how many resources of both people and machines are required to produce any mix.  After you conduct your rationalization, design efficient ways to produce your product.
3.  Focus on the customer journey
How are your customers buying your product now?  Are they placing orders through your website?  Are they picking up the phone?  I doubt they are asking for your sales team to come to visit them.  What can you do to keep the relationships with the customers you have?
Focus on understanding the customer journey and removing friction from that process.  Remember, people like to do business with people they know like, and trust.  What can you do to keep your great relationships with your customers?
4.  Train employees
Many organizations put off training until the last minute.  I don't know why, but they do.  Is there required training you can conduct with your employees?  Are there audits that need to be conducted?  Is there re-certification training you can conduct?
What about lean training?  While I don't deliver training that way, there is no shortage of on-line lean training that you can attend.  Just make sure there is some activity required after the training, so your employees learn how to use whatever they just learned.
As you can see, now is not the time to stop.  It's more important than ever to keep your lean journey moving forward!
It is an honor to serve you, and I hope that you and your company are getting better every day!
Follow me on Twitter
Join me on LinkedIn
Listen to the podcast here