If you have read my book the Lean Game Plan, you know that I talk about Value Stream Mapping as an enabler to help your organization understand where you should focus your improvement efforts.  This blog will cover how to develop a future state value stream map.
If you have never completed a Value Stream Map (VSM) for your organization, your first step should be to develop an Enterprise Value Stream Map (EVSM).  This shows how the entire organization adds value to the customer.  It covers from the time the phone rings until you deliver a product or service to your customer.
In my last blog, I talked about developing a current state Value Stream Map which shows your business as it stands.  After developing a current state Value Stream Map the next step in the process is to complete a Future State Value Stream Map.  Think of this as what you want to be when you grow up.  Since the goal of Value Stream Mapping is to identify waste, a future state Value Stream Map provides the roadmap that for your organization to head toward.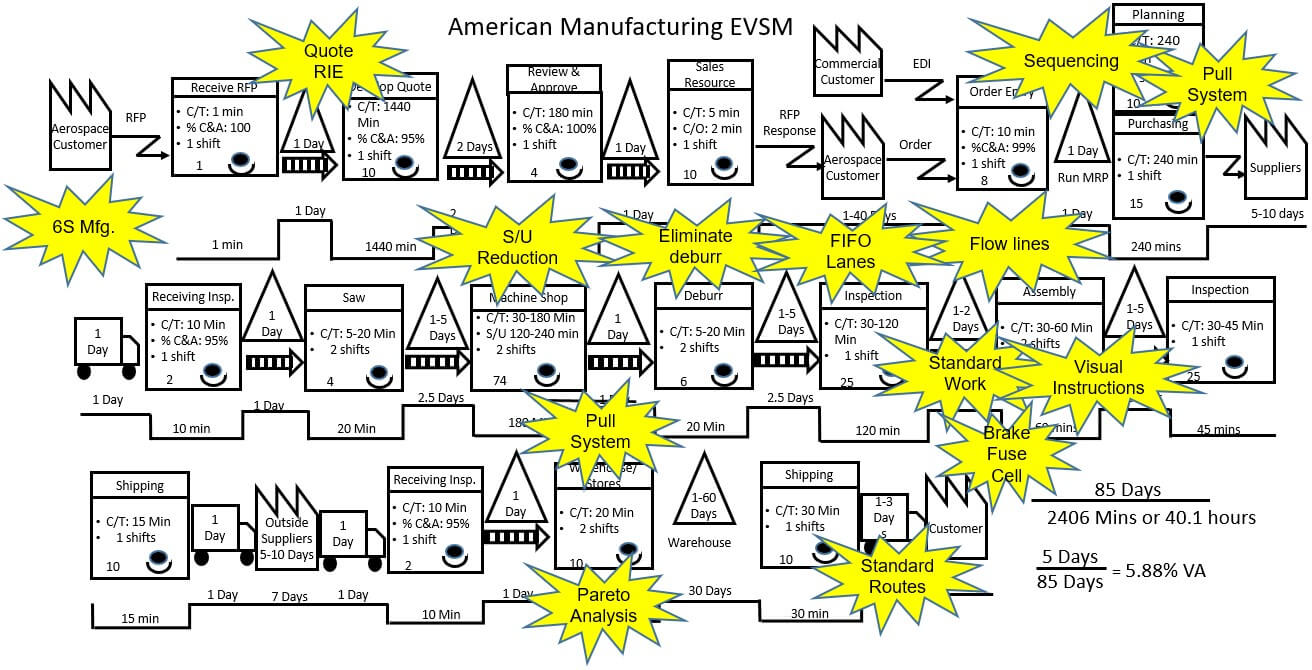 Here we can see our Value Stream Map with Rapid Improvement Bursts attached to the various processes that we want to conduct a Rapid Improvement Event within. Some Rapid Improvement Event types may have to be repeated several times to get the improvements that will impact the Value Stream. In the example above, the set-up reduction Rapid Improvement Events may have to be conducted several times to get to a future state of 10 minutes set up times. It is often easy to cut the set-up times in half with the first event but takes more effort to continually keep cutting the set-up times in half.
Looking at the Rapid Improvement Events that have been identified in this case, there is easily six to twelve-months worth of improvement activities identified. Post this in your Lean Promotion office and continually work toward the future state!
Until tomorrow! I am honored to serve you and I hope that you and your company are getting better every day!
Follow me on Twitter
Join me on LinkedIn
Listen to the podcast here