What is the KPI buffet?  It is measuring so many KPI's that you can't tell the direction of the company.  I consulted with a company measuring 30 different KPI's when they began their Lean journey.  When we worked on their Lean Management System, one of the pillars became to measure what matters.
They took that to heart and narrowed what they measured to a handful of KPI's.  Here are some tips to help you stay away from the KPI buffet.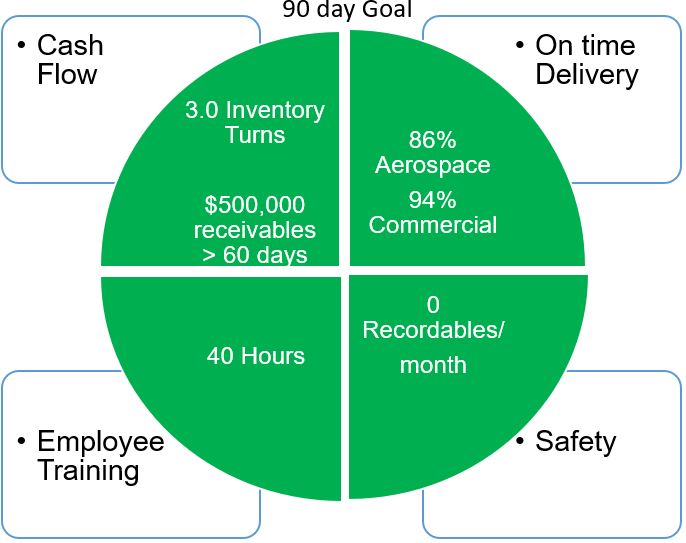 1.  Safety must be a KPI
I believe that safety has to be a KPI.  Sending everyone home in the same condition that they came to work is not an option, it is a requirement.  Some companies use a safety cross- every day of the year in the shape of a cross- think red cross uniform.
Every day they don't have an accident, they put a green mark or square in the cross.  If there is an accident, the day receives a red square.  I have seen companies measure near misses by using a yellow square.  Regardless of the form you choose, it is important to measure safety performance.
2.  Customer metric
Why is your company in business? It is to service your customers.  What are the one or two top-level metrics you can use to measure customer service and satisfaction?  Do your customers value on-time delivery?  Do they value 100% quality?  Do you measure customer returns?
What if your company is a call center?  Call centers are data-rich environments and measure metrics like average response time.  First, call resolution.  Customer satisfaction.  The number of issues customers have.  Choose 1-2 key metrics to measure customer satisfaction.
3.  Employee metrics
Some companies have the thought process of taking care of the employee and the employee will take care of the customer.  What can you measure from an employee perspective?  In the example above, the company measured employee training hours.  In the example above, they were conducting zero training hours per employee.
Some companies measure morale.  How do they do that?  While not an exact science, they measure employee turnover.  They conclude that if they have high turnover, they must have low morale.  I'm not sure there is a direct correlation, but it can point out problems.
4.  Cash metrics
Cash is the lifeblood of any business.  Develop 1-2 metrics that best reflect your business and the cash flow.  For manufacturing organizations, I believe it is important to measure inventory turns.  Inventory is cash that is sitting on the floor.  The higher your inventory turns, the less cash you have spent on something sitting around.
After that, you can measure the amount of days receivables.  This also measures cash flow.  You can often improve this quickly by making some phone calls.  Regardless, pay attention to your receivables.
5.  Quality metric
If you manufacture a product, you can measure quality in several ways.  You can calculate the overall cost of quality.  You can measure the first-pass yield.  This is the number of times something exits a process the first time to specification.  If you can improve this, you automatically improve scrap and rework, two other metrics you can measure.
Focus on capturing 1-2 KPI's for each of these which reflect safety, quality, on-time delivery, cash flow, and the employee.  Far from a KPI buffet.
It is an honor to serve you, and I hope that you and your company are getting better every day!
Follow me on Twitter
Join me on LinkedIn
Listen to the podcast here