Industry 4.0 is being accelerated by what is happening during the pandemic.  If you or any of your employees would like to learn about the growing need, learn about what MSSC has to offer!  Upskill for industry 4.0.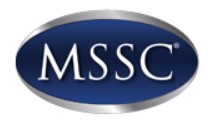 CPT 4.0 is a nationally portable, industry-led program that prepares and certifies individuals for career pathways in advanced manufacturing.  This online training program delivers the 21st Century, in-demand skills that today's employers need for over 6 million frontline production jobs.
CPT 4.0 is delivered and customized locally through 1,500 MSSC Centers with a network of over 2,300 Authorized Instructors at colleges,
secondary schools, and other convenient locations.
Well-Established Technologies already included in MSSC Production Standards:
Computer numerically controlled (CNC), Statistical Process Control (SPC), Six Sigma, Total Quality Management (TQM), Lean, Robots,
Sensors, Programmable Logic Controllers (PLCs), Human Machine Interface (HMI), Lasers, Mechatronics, Plan-Do-Check-Act, Root Cause Failure Analysis, Pareto Analysis, Barcodes, PC Ethernet, Variable Frequency Drives (VFD).
Newly Emerging "Industry 4.0": 5G, Artificial Intelligence (AI), Autonomous Robots, Additive (3D), Data Analytics, Industrial
Internet of Things (IIOT), Augmented Reality, Nanomanufacturing, Advanced Materials.
MSSC's full Certified Production Technician 4.0 (CPT 4.0) certification consists of 5 stackable credentials: Safety &
Employability, Manufacturing Process & Production, Quality Practices & Measurement, Maintenance Awareness,
and Green Production.
The CPT Plus certification complements the full CPT credential by providing employees with
proof that an individual has the comprehensive technical knowledge and hands-on skills needed to be qualified
production technicians.  Help your employees upskill for industry 4.0!
Safety and Employability
Production Teams
• Training and Leadership
• Safety Organization
• Personal Protective Equipment
• Fire and Electrical Safety
• Work Area Safety
• Hazardous Material Safety
• Tool and Machine Safety
• Material Handling Safety
Manufacturing Process & Production
• Mechanical Principles
• Mechanical Linkages
• Gear Drives
• Machining Processes
• Machine Tooling
• Machine Operations
• Equipment Procedures
• Production Planning and Workflow
• Production Control
Quality Practices and Measurement
• Multi-view Drawings
• Assembly Drawings and Fasteners
• Geometric Dimensioning and Tolerancing
• Basic Measurement
• Precision Measurement Tools
• Dimensional Gauging
• Quality Systems
• Introduction to SPC
• Control Charts
• Continuous Improvement
Maintenance Awareness
• Welding
• Basic Electrical Circuits
• Electrical Measurements & Power
• Pneumatic Power Systems
• Basic Pneumatic Circuits
• Principles of Pressure and Flow
• Lubrication Concepts
• Bearings and Couplings
• Belt & Chain Drives
• Machine Control Concepts, Automation, & Operation Modes
• Electrical Motor Control
Follow me on Twitter
Join me on LinkedIn
Listen to the podcast here