Leading employees is never easy.  It is more complicated and messy given the current restrictions as we all know.  There are still ways that you can lead with courage.  Take a minute to review these and ask yourself are you a courageous leader?
Since we have been recording history, there are many stories of leaders who acted courageously.  Did they act courageously because they had to, or because that's how they learned to lead?  Personally, when I think of courageous leaders- George Washington, Abraham Lincoln, Harriet Tubman, Winston Churchill, Martin Luther King, etc.  They are people who led in circumstances of crisis.
A crisis is typically not a normal set of circumstances, nor is it expected.  Sound familiar?  When faced with a crisis as a leader, you can retreat or you can lead with courage.   Here are some elements that courageous leaders share.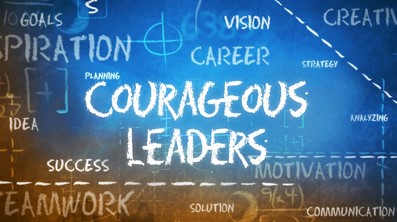 Tip 1 – Acknowledge people will struggle during the crisis
Sure, you can pretend that nothing is happening and everything will be business as usual.  You can hold people to the same metrics and expectations as before the pandemic.  You can pretend that employees will figure out how to work from home seamlessly with no interruptions to their daily work activities.
Or you can lead with empathy and courage and acknowledge that your employees might struggle during the work from home situation.  You can support them as they transition to initially working from home and then hearing it might not be a temporary situation.
Tip 2 – Communicate often and communicate small wins
If your staff is remote, there is no such thing as overcommunication.  Your employees are concerned about the future.  Communicating small wins lets employees know that progress is being made, and the company is moving forward, although it might be at a slower pace.
Sharing a simple message repeatedly, such as, "We are moving forward, and here's a win I'd like to share."  This type of courageous communication motivates and engages employees to keep pushing to make it through the crisis.
Tip 3 – Share lessons learned
A Lean technique of servant leadership is to ask for lessons learned after Rapid Improvement Events or Kaizen occurs.  The purpose of this is to allow employees to reflect on what they learned.  Reflection is a great attribute for a courageous leader.
There is no owner's manual for leading in a pandemic.  As a leader, you have to try your best, see how it works, and then share lessons learned upon reflection.  The mark of a courageous leader is to share those lessons learned with your employees.
Sharing the fact you are learning along with them, helps them realize you are doing your best along with them and trying to lead with courage in a crisis.
As always, it is an honor to serve you, and I hope that you and your company are getting better every day!
Follow me on Twitter
Join me on LinkedIn
Listen to the podcast here