It has been interesting for me to see that we have a coin shortage right now.  Years ago (2000), I was part of an internal Lean team working with the US Mint locations.  We headquartered from the Denver Mint.  Our goal was to implement Lean concepts at all Mint locations- Denver, San Francisco, West Point, and Philadelphia.
The new state quarters were being introduced and demand was going through the roof.  The mint was producing about 600 quarters a minute from each stamping press.  That was a lot of quarters.
The Lean transformation was new to the Mint.  We trained everyone at the locations in Lean concepts.  One concept we implemented was certification matrices.  Certification matrices visually share what employees are certified to complete work.  The figure below is what we used for certification matrices at the Denver Mint.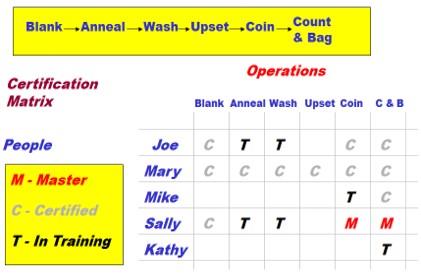 Here are four benefits of certification matrices.
1.  Transparency
Having a certification matrix posted on the wall in a work area allows everyone to know who can do what.  If Joe doesn't show up for work today or is on vacation, I can quickly see who else can work at his operation.
Using the matrix I can choose from other certified operators.
2.  Who needs training?
In the matrix above, you can see that Mary is the only operator certified in the Upset process.  Is that a problem?  What happens if Mary doesn't show up today?  We don't have other team members certified that can do that operation.
As a team lead or supervisor, I should identify additional employees to train on that operation.  I need to get on that as soon as possible.  This probably wouldn't have been obvious if the certification matrix wasn't posted.
3.  Who can train other employees?
In this certification matrix, we place a T, C, or M beside employee names.  T means the employee is in training.  C means the employee is certified to do the work.  This means they can completer the work within the takt time and meet all quality requirements.  An M means we consider the employee a Master who is willing to train other employees.
The key piece for a Master is that they are willing to train other employees.  Not everyone wishes to take on that role.  It is important to identify a Master for each process.  They are your training resources.
4.  The needs of the business dictate training
Certification matrices make it simple to see who needs training so we can be "two-deep" at every operation.  Training in these areas can begin quickly and support the needs of the business.  Decisions on who to train become quick and easy.
I know that if you deploy certification matrices, your human capital will improve dramatically!
It is an honor to serve you, and I hope that you and your company are getting better every day!
Follow me on Twitter
Join me on LinkedIn
Listen to the podcast here